KYC & AML
We now have a strong anti-money laundering stance and also support a customer identification policy. We adhere to the law and that is why we try to do everything to make sure that our site does not become a place for illegal actions. That is why, if 1win com employees notice any suspicious activity or any other money laundering activities, we will be obliged to report it to the appropriate authorities. We are also obliged to block all accounts of players who break the law or do not follow the rules of our platform. 
Money laundering is making the proceeds of criminal activity appear legitimate. Different schemes are used to disguise the real origin of the "dirty" money – one thing is constant: always "laundering" the proceeds of a crime, such as a drug trafficking, tax evasion or corruption.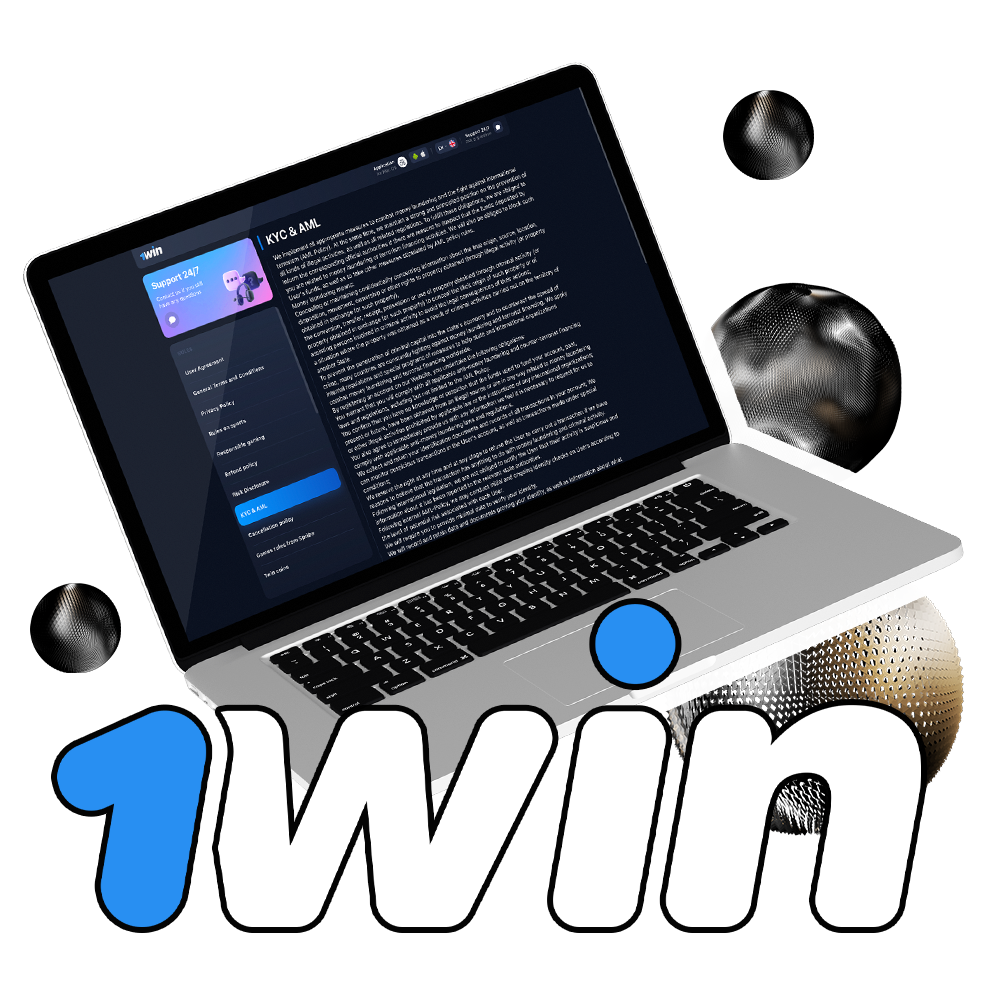 Basic Statements of 1Win
We don't want to be a company that promotes money laundering or terrorism around the world. That's why we block all accounts that are involved in such activities. We take all necessary measures to help nations around the world fight money laundering and international terrorism.
You should understand that by creating a profile on our site, the player agrees to all our terms and conditions, taking into account all aspects related to money laundering and terrorist financing policies around the world. The main points of the AML policy are outlined below:
You represent and warrant that all money used or to be used for funding your profile has nothing to do with money laundering or terrorist financing. This also includes any illegal activity;
The Player agrees to provide any information we request, as necessary to enable us to fulfil our obligations to governmental authorities;
The company collects and maintains information about the customer, including any documentation of any kind. We also maintain records of all deposit and withdrawal transactions;
We keep track of transactions that are suspicious or that require certain conditions to be met;
We reserve the right to restrict deposits and withdrawals to players if we have reason to suspect money laundering or terrorist financing. In such a case, 1Win App may carry out an investigation, the result of which will be the decision to return access to the Client or to block his profile.
In accordance with AML policy, we conduct initial and follow-up audits on certain clients. This is necessary for us to build a comfortable environment for gambling and betting.
The company will require the player to provide minimum data to confirm identity and will record all the information received from the player.
If a player wants to become our potential customer, it is worth knowing that we will check the player's identity against the list of persons suspected of terrorism.
The minimum set of identification data includes: – User's full name; – date of birth (for individuals); User's residential address or 1Win registration address; and the source of origin of the funds to be deposited in the account on the Company Website.
If we need to clarify any information about a customer, we may ask for a document that contains the following data:
Full name;
Birthday;
Photo of the player;
This document must be issued by an authorized state agency.