Responsible Play
We want to build a favorable atmosphere for betting and gambling on 1Win website and 1Win apk download. That is why responsible gambling is an important aspect of any gambling activity. We consider it our responsibility to protect our customers from gambling addiction, as well as to prevent underage players from entering our platforms.
Now many companies support the policy of responsible gaming and we are one of them. We try to build our policy so that players on our site are less susceptible to falling into addiction and play only for fun.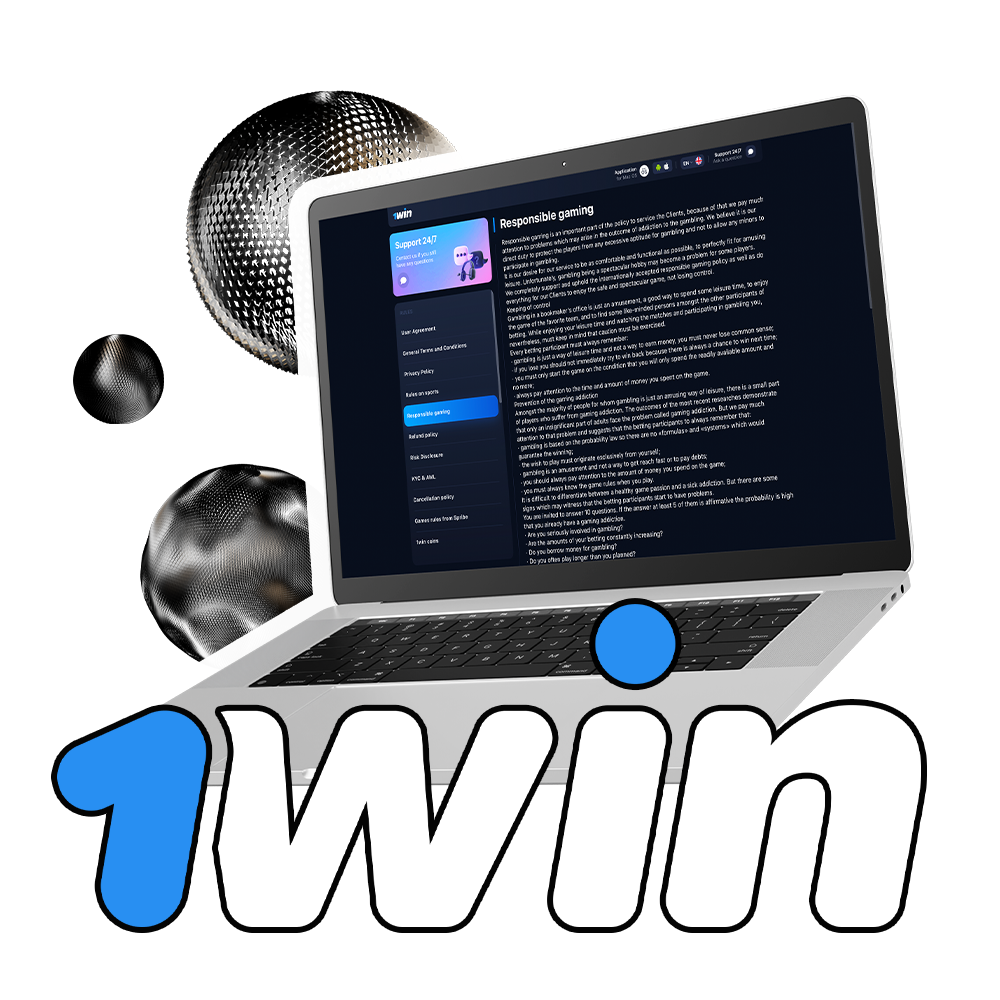 Maintaining Control
Every player should understand that gambling is just a way to have a good time. It should not be regarded as a way to earn money or anything like that. It is necessary to keep yourself in control and not to make rash actions. There is always the factor of gambling addiction that can surface.
Below are the aspects that every gambler should keep in mind:
You can not take gambling as a job, it's just a way to have fun;
If today the player has lost, you should not make another deposit in the hope to win back;
Fix your bank and play only for a set amount;
Don't lose track of time and always give an account of how much money you have spent.
Preventing Gambling Addiction
For most players, gambling addiction is a way of entertainment, however, there is a small percentage of players who are addicted to gambling. We try to take this problem seriously and that is why we advise all gamblers to remember the following points:
All gambling is based on chance, which is why there are no strategies that will give a 100% chance of winning;
Gambling is not a tool for instant entertainment;
Always keep track of how much money you have for the game;
Always study the rules of the game before you play.
At this point, it's hard to know if a person is an addict or not. That's why you need to understand that everyone is subject to this addiction. In order to understand if a client is an addict, it is worth asking yourself just a few questions, which are outlined below:
Are you seriously involved in gambling?
Is your spending constantly increasing day by day?
Have you ever borrowed money to gamble?
Do you often gamble more than you originally planned?
Do you have a bad reputation because of gambling?
Do you feel annoyed that you can't gamble?
Is gambling a way for you to get away from your problems?
Do you often gamble to get even?
Has there been a time when you couldn't keep your spending down at the casino?
Do you prefer not to tell your relatives about your hobby?
Tips for Managing the Game
Below are some tips we can give players to better manage the game:
Set a certain amount of money that you are willing to lose and play only with it;
Never borrow money to gamble;
Do something else besides gambling;
Do not gamble if the customer is in a bad mood today;
Always remember to gamble responsibly.
Self-exclusion From the Game
Each player can close his account if he wants to. To do this, you need to write to the support service. You can close your profile either temporarily or permanently. If you close the profile permanently, it is impossible to restore it.
At the moment, there are organizations that help gambling addicts. For help, you can contact the address below: